Books
Expressions of the Heart - Audiobook
by Terry Lubotsky, M.S.Ed.
Consultant, Facilitator, Speaker, Coach & Author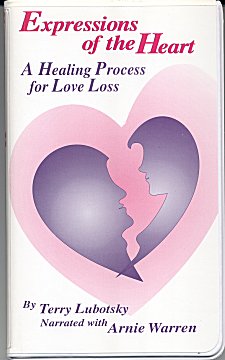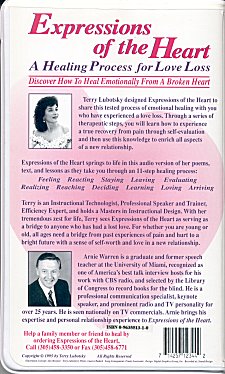 Expressions of the Heart - Overview
"Expressions of the Heart" is a sensitive, therapeutic audiobook designed to help you recover from losing a relationship. We all want a warm, trusting, loving relationship. But before we find "the right one", we usually experience a few relationships that just don't work out. When a loving relationship ends, sometimes it may seem like our hearts will be broken forever. When someone you love ends your relationship, you may experience any or all of these reactions:
Emptiness, Pain, Shock, Mental Anguish,
Fear, Stress, Numbness,
Sadness, Depression, Discomfort,
Emotional Hunger, Anxiety, Lethargy,
Confusion, Isolation, Hurt
Sound familiar? In the throes of heartbreak, you may feel you are all alone, that no one understands...no one cares. "Expressions of the Heart" is like having Terry as your personal coach to help you:



Work through your pain


Guide you through an 11-step healing process


Re-discover your personal beauty


Accept your loss and let go of the past


Learn and grow from the experience


Become open and ready to love again

Features
"Expressions Of The Heart" encourages you to listen to one section at a time. Each section:
Is designed to help you express what's in your heart so that you can begin to heal.
Offers poetry and a series of questions to lead you in examining your relationship experience.
Provides sound effects and music to guide you in a calming visualization.
Each chapter evolves from the previous one, but can be used in any order you choose. This audio-book is like having Terry there to personally guide you through the healing process.
Don't Wait to Start Experiencing Heart-Centered Communication!
Start experiencing all the rewards of sincere, heart-centered communication by scheduling a workshop, commissioning a custom learning experience for your organization, team, or group, or listening to Terry's audio-book. Terry is also available for private coaching programs to help you develop your image, etiquette, and personal communication skills. Call today to discuss how you can develop your highest potential through Heart-Centered Communication.
Terry Lubotsky
Heart-Centered Communication
Clearwater, Florida
727

593

3350
email:

(c)2006 - 2023 Heart-Centered Communication